Valid until 31 January 2015 (unless noted)
Each country has its own currency. Strength of the currency of a country is reflected in the currency exchange rate. We know that Indonesia has Rupiah, the United States had a currency US Dollars ($) and so on. For example if we want to have one (1) United States dollars so we can buy with a price of Rp. 10.000 (depending on the applicable exchange rate). This is the strength of a particular currency.
Currency exchange rate can change, even fluctuate at any time. Currency exchange rate of developed countries experience a sharp fluctuations. Changes in exchange rates can be at once the potential risks / opportunities for the business. Changes in currency exchange rate is influenced by many factors, it depend on the supply and demand to the currency, inflation, interest rate differences between countries, the level of a country's economy and the expectation that the parties concerned. Expectations of the currency exchange rate is influenced by the situation or condition of political, social and economic development.



Exchange Rate Risk


Exchange rate risk is defined as the variability in value of money that is caused by uncertain exchange rate changes. Exchange risk is viewed as the possibility that currency fluctuations can alter the expected amounts or variability in the future cash flows.



International Transaction Exposure


Changes in currency exchange rates may cause changes in cash flow. This potential changes in cash flow is exposure. Exposure can be measured clearly in some situations, such as transaction exposure. For example, Indonesian exporters have signed contracts to export goods worth $ 1 million to American companies that will be paid in 6 months. Risk of exchange rate changes can cause changes in cash flow due to exchange rate Rp / $ can be changed at 6 months. At the core of the contract at a certain rate while the exchange rate in the future can be changed so that cash transactions of the future of the contract is uncertain.

Risk Analysis of International Transaction (refer to Hanafi's risk sequence analysis) - click image to enlarge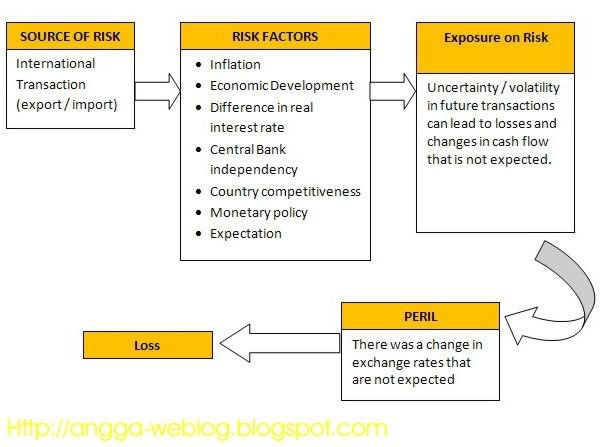 Managing Transaction Exposure


Transaction exposure can be manage, so that the loss on cash flow in the future can be minimized. Management of transaction exposure can be done with the exchange rate forecasting to assist decision making. Various methods of hedging is also used to minimize the risk of loss exposure of the transaction.



Exchange Rate Forecasting

--- There are several method to predict or forecast exchange rate in the future, there are technical forecasting, fundamental forecasting, market based forecasting, and mixed forecasting.



Hedging

--- Hedging is the taking of a position, acquiring either a cash flow, an asset, or a contract (including a forward contract) that will rise (fall) in value and offset a fall (rise) in the value of an existing. Hedging is very important to protect the potential loss and reduces the variance of future cash flow, so that is expected to reduce the risk of uncertainty. Hedging can be done with derivatives instrument (such as forward contact, futures, call and put options), money market hedging, risk shifting, and netting exposure.

For further explanation about managing transaction exposure, I will write it on the next post on this blog.

-----------------------------------------------------------------------------
Source :
Eiteman et al.,2004, "Transaction Exposure", PPT Ch.8, Link: http://flash.lakeheadu.ca/~pgreg/assignments/4079chapter8n.pdf

Eun/Resnick, 2007, "International Financial Management", PPT Ch.8 (Management of Transaction Exposure), McGraw-Hill, Inc., Fourth Edition, Link : http://www.westga.edu/~chodges/pdf/erch08ppt.pdf

Hanafi,M.M, 2003, "Manajemen Keuangan Internasional", BPFE, Edisi 2003/2004, Yogyakarta.

Hanafi,M.M, 2006, "Manajemen Resiko", UPP STIM YKPN, Cetakan Pertama, Juli 2006, Yogyakarta.

Saunders / Cornett, 2006, "Financial Institutions Management, A Risk Management Approach", McGraw-Hill, Inc., Fifth Edition, Singapore.